Plastic or Vinyl Corner Beads Easily Curved for Arch Construction
Stucco corner bead or stucco stop is used for corners protection of stucco walls. PVC (plastic) and vinyl are popular materials. Stucco beads provide hard-to-damage, rust-proof straight corners. It can be easily curved for smooth arches in construction.

Plastic Stucco Beads:
PVC corner beads can be bending for fastening with beautiful arc in construction. The flexible drywall tape reinforces exterior stucco corners with durable, straight and rust free vinyl corners. It is adjustable to any angle to suit for the wall corner.
Material:Plastic
Thickness:0.8mm~1mm / Customized
Length:2.44m/2.5m/Customized
Wing Width:30mm,40mm,25mm etc
color:White ,black .
Type:Round Angle or according your need
Instruction on Uses:
It is must be specified where there is a structural movement joint under the render. May also be used as a day joint or to define different colored rendered panels should also be used in cases of a change to the background substructure.
Fixing:
Plumb vertical and embed in continuous line of adhesive mortar. The joints are to be embedded in silicone mastic to prevent water ingress. Mechanical fixings are best avoided to prevent distortion of bead.
Storage:
Store flat away from heat and direct sun.

Features:
Plastic beads is using weatherable grade, lead free, virgin vinyl compounds, formulated and tested for exterior use. It is UV resistance, corrosion resistance, and ignition resistance, low electrical & thermal conductivity.
It is hard-to-damage, rust-roof straight corners, easily curved for smooth arches.

PVC or Vinyl Stucco Beads provide a quality finished edge for walls around doors and windows. Stucco corner beads are available in 1/2" and 3/4" sizes. Standard length is 10' and bundles are 20 pieces.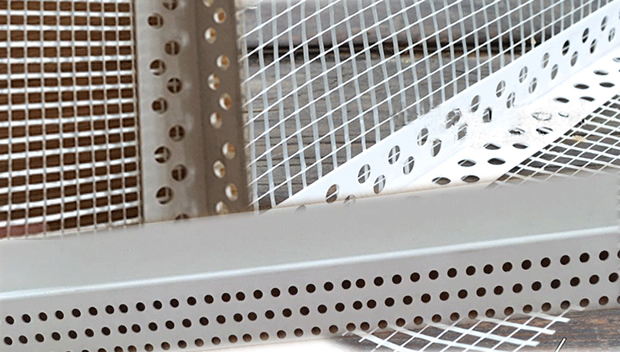 White perforated plastic stucco drywall corner bead


The corner beads are made from a molded PVC with punched holes for easy application. Vinyl drywall beads with UV protector, reinforces exterior stucco corners with durable ,straight and rust free vinyl corners. The addition of stiffener ribs and slotted nailing holes makes these productseasy and quick to install level and straight.
Specification of PVC Stucco Beads
| | | |
| --- | --- | --- |
| Width(mm) | Thicknes (mm) | Max Length (m) |
| 60x60 | 0.3-0.6 | 3 |
| 50x50 | 0.3-0.6 | 3 |
| 45x45 | 0.3-0.6 | 3 |
| 32x32 | 0.3-0.6 | 3 |
| 30x30 | 0.3-0.6 | 3 |
Sizes of Vinyl Corner Beads:
| | | |
| --- | --- | --- |
| Expanded code | Render Length | number of box |
| YZ24 | 1-2.80m | 50 |
| YZ30 | 1-2.80m | 50 |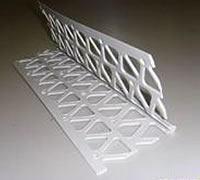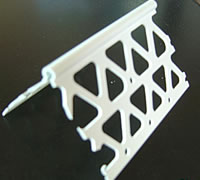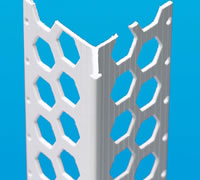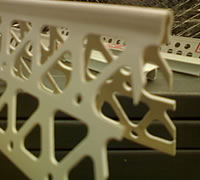 Popular New Types:



Hard Vinyl / Plastic Perforated Round Hole Corner Bead (23x23mm, min. weight 0,10kg/2,5m, white color)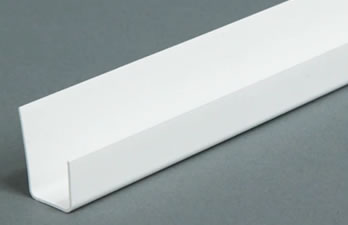 PVC J bead (width 12,5mm, short side – min. 10mm, long side – min. 18mm, white color)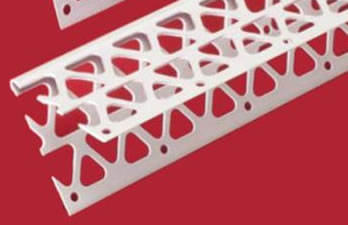 Y type Plastic Corner Trimming (23x23mm, min. weight 0,12kg/2,5m, white color, "nose" 5-6mm)
Stainless steel or galvanized steel stucco beads also available for options:
Galvanized Sheet 30*30*0.4
Stainless Steel Stucco Beads
Steel Stucco Corner Beads
Stucco Corner Bead With Fiberglass Mesh Wings
Aluminum Stucco Corner Beads
Stucco Expanded Plaster Wall Protection Corner Bead